Prefab House Project Updates And Construction News
Greetings from Green Cabin Kits!
Our sweet clients P&M sent in their prefab house construction update a few weeks ago from the west coast! Between teens and travel, I only now am posting this prefab project update, so another is soon to follow!
If you recall, they
heavily
modified our
Dogtrot Mod
from
GreenCabinKits.com
, from this...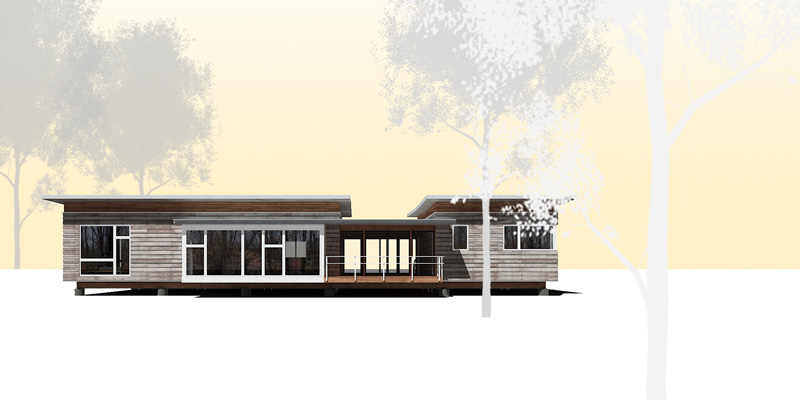 ...to this:
They are also clients who decided to take the lead on their project, something I advise the average residential client from doing. But this client is an engineer.
I have appreciated our client's frank insights.
His engineering background, world scope, and adventuresome, creative spirit have all been key to their construction and prefab house kit modification experience.
"Hi Copeland. Sorry I've been ignoring you. Our situation got messy for a while but now we're back on track if somewhat behind our original hoped-for schedule.
We had two problems to overcome. First was the dearth of interest from local builders here on the Oregon coastal strip, between the coastal range and the Pacific. The people that call themselves contractors or builders are really just interested in doing as little as they can to make a modest income. They are happier doing remodels than build a new structure and have absolutely no interest in learning anything new. That has resulted in all the work having been done by businesses I found inland (...).
Second, and perhaps our biggest problem was our desire to have a one level home and garage, in anticipation that one day one of us might be in a wheel chair and need easy access from garage to house without assistance. This became a huge problem when we tried to get grading estimates to create a suitable flat plot on our lakefront sloping lot. No one was prepared to commit they could do it and quote a price or they simply said it was too big a job for them to take on.
I wanted to get a contractor to grade the best they could so we could see what we had to work with as we couldn't finalize the house and garage design until we knew the amount of flat land we could create. M. didn't want to spend the money to grade until we knew we could afford to build what we wanted but we couldn't get final building quotations until we had a final design. One might say we had a serious Catch 22 situation.
We eventually resolved the problem by deciding to just go ahead and build the house, with a basement to reduce the amount of dirt to be brought in, planning to add a possibly smaller garage, with a ramp between it and the house. We contracted with a young contractor from the valley who showed up with a small Kubota backhoe and he set to work. One week later we had our house flat pad done and the excavation for the basement done too. He also flat graded the area where we want to build our garage which came out around 6' above the house pad.
One week later we had the builder who will be doing our SIP construction on site installing the formers for the foundation and pouring concrete. A few more days later they were back setting up the formers for the stem walls and the ICF structure for the basement walls. This past week they came and finished the concrete pouring for the stem walls and ICF. The next step will be installing the joists and floors so the SIP can be set on top of them.
At some point as the SIP builder's designer was talking with me I asked why he'd decided to have the floor joists installed using metal hangers inside the concrete stem walls. He said he always did that. I said that would make it very difficult to route electrical wiring up from the crawl space as I'd have to carve my way through concrete to get to the base of the SIPs and access the molded channels. I suggested he reduce the height of the stem walls by a foot and lengthen the 12" floor joists so they could sit on top of the stem walls, then it would be easy to drill up through the floor between the joists to run wires up into the SIP walls above. Savings eliminating the steel brackets and reduced concrete required came out a wash with the extra cost for the slightly longer joists.
Ironically it now looks as though the level of the house floors will be only a foot or two below the garage pad. It should be easy to have a shallow ramp between the garage side door and mud room/laundry entrance. We might even be able to make it level by grading the garage pad a little lower and using the extra dirt for raising some areas around the lot to better manage water runoff and access to the basement and lakefront.
...
You'll see the WolfTrot still has the basic layout of your Dogtrot Mod prefab design but it has evolved a lot with all the revisions I had to make.
... We ended up with (...) more conventional doors at each end. However, I did have the designer incorporate the necessary headers (lintels in English) so that if I get the chance I'll be able to open up both ends and install wide opening doors without having to rebuild the walls above. Prego! It's in there! Do you remember that advert for pasta sauce?
It's in there!
I will be taking lots of pictures of the construction process and will send some when I can. At this moment we have all the materials and labor scheduled to build the shell, roof, walls, siding, doors and windows with all the critical weather sealing so we anticipate a sealed shell to work inside possibly around the end of October or early November.
Now I'm focused on scheduling the septic tank and drain field installations as soon as all the heavy equipment has left the lot, along with electrical power and plumbing. I hadn't planned to be my own prime contractor but was prepared to if I had to. ... I've learned just how many decisions cascade into more decisions and on and on. It's like kicking one stone that hits a few more and they even more and soon you have an avalanche. Make a poor decision of delay making one and it can present more and more issues later. Planning ahead helps but if you don't know what you don't know ...
You can't teach experience but I feel I'm learning a heck of a lot as we've been doing this. Getting the high level decisions made, such as roof and siding colors or floor treatments are hard (...). But deciding where you need every electrical outlet, the amperage of each circuit, the location and interaction of the necessary switches and finding an electrician that won't rip out the SIP insulation because he's never worked with it before... It's challenging. I'm almost at the point where I just may decide to do all the remaining work myself. Take my time and be sure it's done well, correctly and safely.
In Oregon, home owners can do their own building as long as it passes building code inspection. I've discussed this with our local city building inspector and he's very supportive. The only work I can't do is the septic system and I'll be happy for a contractor to do that and I do have a reasonable quote from a company in the valley. I had hoped we'd in the house for Xmas but now I'll be glad if we can be in by Easter.
I never expected to be living in our 36' coach for this long. But we're doing fine and the coach was well built and is holding up fine. A lesser RV would not have lasted as well we're sure. All the solid oak cabinetry is very solid so the repeated openings and closings of cupboards, drawers and sliding room doors had not resulted in any structural problems. It has made us realize that although we are living in just 300 square feet of space, all our "stuff" is nearby in another 750 square feet of storage space, so we really have 1000 square feet of distributed living accommodation.
Although our previous house was around 2000 square feet we probably actually lived in just half of it. Our new home will be around 2000 square feet too and we'll mostly live in just half of that too. The rest is just room to "spread out" or entertain when you want to. I'll admit the few trips we've made, usually to potential vendors or a car club outing have been great to get a change on scenery. And it's nice to be able to enjoy a long shower in a bigger space than the one in our coach when we've stayed overnight in hotels, but then it's still nice to come back to our home and relax.
Everyone who has seen what we're doing likes what they see.
Most think we're crazy but at the same time you can detect some envy. In a few weeks we'll be able to at least sit in a couple of folding beach chairs, with perhaps a scotch and soda in hand, inside our weatherproof, lakefront shell and look out at our new world.
But not for long. There will still be much to do.
Watch this space for future developments...
P&M"
(Copeland's note: I have enjoyed so much getting to know P&M through their prefab house project, and clearly, you can see why!!!!)
And At My Own Off Grid Prefab House...
Fall Flies Into Winter At Our Off Grid Prefab House.
I have been avoiding writing, not for any reason other than it's just not that fun anymore... writer's block envelopes my keys...
BUT. Then a kind reader emailed me and asked when I would post! You made my day, and made me want to start clack clack clacking again on the keyboard, because I *do* have things to say.
Ten Years In Our Own Prefab House
I love it. I still love it. I love the small square footage, the energy efficiency, the layout, and am so... centered and happy and comforted when I'm home.
I love living off-grid.
SURE there are things I would improve / change / work on in the prefab house finishing, don't we all have something to tweak? I mean, there are still small areas of the SIP we still haven't finished covering! That is the downside when one decides to "do the interior finishing on their own."
Let's tweak the dog. WHAT A MESS!
(But we love him...)
We have not two, but THREE teenagers this school year!
WELCOME, K!
Our "second son" hails from the third-largest city in China, but has adapted to Life In Population 40 (and the nearby Southern City) well.
He is not complaining.
We are making a farm kid out of him!
If you would like to read about my
own
life, off grid in a (now ten years old!) prefab house (from our sister site,
Green Modern Kits
) you may do so
on my blog, here
.