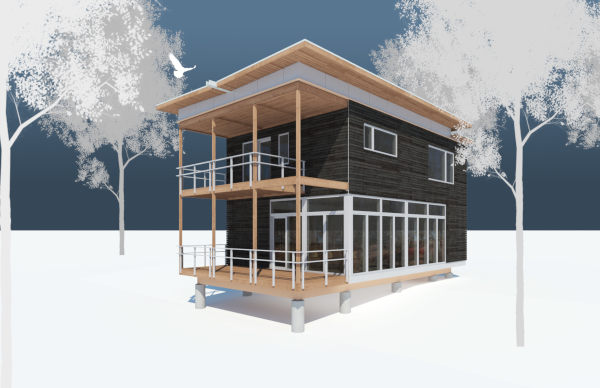 For our latest modern prefab house project update, let's check in with our client Justin who is building the modern prefab CornerHouse from Green Cabin Kits in the southwest.
Justin is a Realtor, investor and serial entrepreneur originally from Phoenix, but he has lived in Prescott since 2001. He is a native of Arizona and a graduate of Arizona State University, where he studied Business.
In his free time, Justin enjoys trying the latest restaurants, thrift shopping, and enjoying the beautiful northern Arizona weather while exploring the many lakes and trails with his pup, Ted.
"Hi Ted!"
When it came time to build his future retirement home, Prescott was an obvious choice for Justin because of its small town feel, friendly people and abundant recreation and natural beauty. For those unfamiliar, Prescott is a historic old west town dating back pioneer days. It's home to the worlds oldest rodeo and world-renowned for its idyllic town square. Visitors can often be found wandering Prescott's winding roads of Victorian homes or exploring the many historic saloons and former brothels of 'Whiskey Row' - the town's main entertainment district.
This project will be a learning experience for Justin, and he hopes to leverage it, along with his current knowledge of Real Estate, so that he can become an area expert in the green design-build space.