Dear Modern Prefab Cabin Enthusiasts,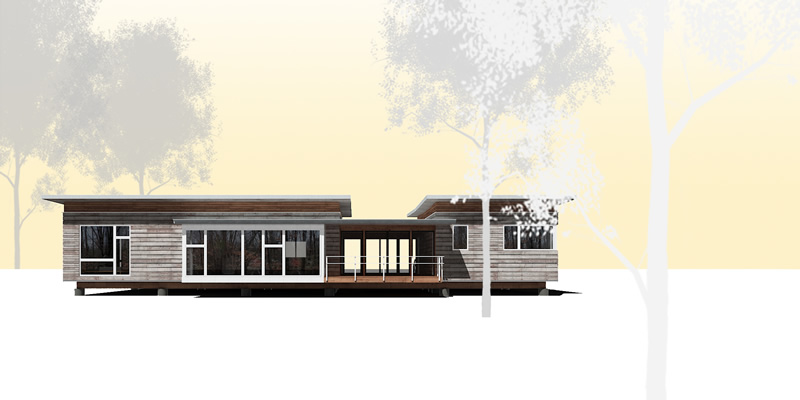 I have been thinking about the modern prefab house that is under construction in the northeast... If you recall, this client is "doing it backwards"- building first the guest house / office of the Dogtrot Mod, then, later this year, constructing the main unit.
The client is A Very Busy Woman.
I don't want to bother her
, asking for updates, being respectful of our clients' privacy...
So imagine my delight when I opened my email and discovered she had sent me an update on her modern prefab cabin house!
I hope you enjoy her tales as much as I do- they are stories of thoughtful reuse, a life well lived, creatively, joyously appreciating each moment... I especially am grateful that she is allowing us all in while it is under construction before she truly moves and unpacks and gets settled.

It's similar to when we camped, in our own prefab under construction, living there but not, unpacking yet not moved or unpacked, feeling out the spaces and angles and light, to make it truly our own!
"Hello Copeland and Damon,
I've been using the Little Lab more as a retreat than as a home, unwinding completely in the empty spaces, with the windows open, and listening to the wind and birds.
The occupancy permit was received in early May, although the contractor still had work to do, but it came at the same time as intensive repairs to the old house I live in, including painting jobs I had reserved for myself. But as you know, life is a process and not a finished product, and I've been enjoying gradually cleaning, moving furniture in, and yesterday I started tung oil treatment of birch shelves and doors.

I did want to send you pictures of the rooms relatively empty, before they get filled with "stuff," and a friend stopped by with her camera.

Here are the results. First a long shot of the 7' wide kitchen. The appliances are all ordinary, energy efficient, and inexpensive. That heavy looking hood was chosen because I dislike the huge metal hoods that dominate a kitchen. This Broan model vents out the back, comes with a 4 watt night light and a regular cfl, and can be adapted for controls at wheel chair height. In the main Dogtrot no one will be viewing it from the side as in this pix, and it won't look this ungainly.

The birch countertop is part of IKEA's VARDE cabinet which has 3 large drawers and 2 shelves. The pot on the stove is Norwegian, mid-century, found on the streets of Philadelphia in Society Hill! Wish I had a close-up for you.

2nd pix is of my coffee corner (who'd believe there would be room for one!) shared with Marmoleum stored for the main unit. The Cesca chair rip-off was found thrown out at the university, and of course it needs repairs. The rug is fair trade, purchased from Vivaterra years ago.

3 & 4 are the bathroom shelves made by Joe, a student of the building trades who graduated this spring and is working with my contractor. Birch plywood leftover from the floor was used, and it was 11" wide, just about perfect for this space. I was concerned that people would bruise themselves on sharp corners by the tub, and asked that they be rounded. Well, just look at that perfect job! Joe sanded and sanded; you cannot snag a towel on the edges. He is a good worker and happens to be quite bright.

And that is a teak storage stool from Gaiam, along with their organic cotton towels that have been saved for this special place.


5 is the temporary closet frame built by Joe. Eventually an old upright piano will be moved here, and the closet will be much smaller. Homasote covers the pump and water heater, and, that little piece of wood in the bottom left of the picture is redwood from my cabin on the Mendocino coast of California.

6: Kanjiro Kawaii was a potter who worked with Hamada in Japan, and I read this poem of his at the Palmer Museum at Penn State University when I was experimenting with various paint colors in the Little Lab. So appropriate. Serendipity.


"I paint and paint
And still I cannot spoil
Patterns traced
On the vastness of the sky"
7 & 8: Shots of the bed moved here, a single to take up very little space, with a few handmade, mostly fair trade pillows. The latest is the large indigo-dyed cushion made of hemp by a tribe in Vietnam, on the left.
Oh. I did break down and buy one piece of furniture, the Pavillion black night stand from Crate and Barrel. So glad I did - it has 2 drawers, a shelf for books, and a spacious top for a lamp and clock radio, all in a compact, very attractive shape.

9: Am trying paper on the windows. This was packed around the ph5 and looks ruched (hope that's the right word), like a textile. I like the effect. As you can see, glare is an issue, and the windows do need to be covered.

Copeland, if you use this photo in your blog, please edit out the mess!
(Copeland's note: WHAT MESS?!? : ) )

This is a long break from moving "stuff," and I must get back at it on this fine June day.
Till next time!"
THANK YOU, PREFAB CLIENT, FOR KEEPING US POSTED!!!!
It really means so much to me that she lets us in, allowing us all in to her own story, to see and experience her own prefab cabin's individual home site, conditions, lifestyle. I am so grateful. Like my turkey, I enjoy peeping into the windows of other's cool lives!
Back at our own off grid prefab, we ready for summer adventures and the back and forth that, in my family, for which the season calls. I hope all of our modern prefab house enthusiasts are having a great start to the summer season.
Kind regards,
Copeland Casati
copeland casati
president
www.
Green
Cabin
Kits
.com
6902 park ave / rva 23226
804/ 515-7886

...The prefab cabin

sister

site to